Camp Invention is back at Mary Williams Elementary for the 2022-23 school year.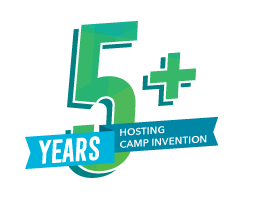 Please note: Camp this year is a four-day camp, due to the holiday, Juneteenth. It will be observed this year on Monday, June 19th by PWCS.   Camp Invention will run June 20-23, 2023.

Camp Invention is open for registrations! CLICK HERE to register your child or by visiting the website at www.invent.org, clicking on "Register for Camp Invention", and then searching for your camp location by zip code.

Exciting news for this location:  For a more convenient program schedule, add our Extended Day option to your cart at registration. Extended Day hours are from 7:30 AM to 5:30 PM for an additional $100 per week.
Introducing our 2023 program, Wonder! 
Give your young innovator an inspiring, action-packed summer adventure! All-new, hands-on challenges will spark their curiosity and build their confidence as they jump into limitless STEM fun with opportunities to imagine, plan, experiment and create. Read more about what your camper will do each day at camp:
PROBLEM SOLVING  
Campers explore physics, design engineering and art as they build their own mini skate park, create DIY riders, personalize their mini skateboards and try out challenging features like ramps, bowls, jumps and rails.
 
CREATIVITY  
To create an epic celebration, campers become event planners who engineer light-up party hats, use the science of color to create a bubble art banner and invent a Party Assistant to help bring their plans to life.
 
PERSISTENCE  
Campers transform their own robot into a one-of-a-kind animatronic stuffie, and then use inspiration from nature and the power of intellectual property to protect their creation from an idea-stealing Copy Cat.
 
ENTREPRENEURSHIP  
Ideas pop up as campers launch their own pop-up business, make smart financial decisions, and use entrepreneurship skills and creative strategies to attract customers with the ultimate pop-up event. 
For more information see below:
A Summer of Wonder: Camp Invention 2023
Open Up a Summer of Wonder with Camp Invention 2023
Discount Codes - See Below 
Please contact Camp Director - Ms. Tamara Bruce, if you have any questions.